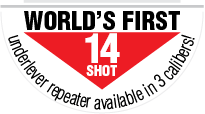 14 shot repeater in .177 (4.5mm) , 12 shot repeater in .22 (5.5mm) and 10 shot repeater in .25 (6.35mm) calibers.
Includes 2 detachable clip magazines.
Vortex gas piston power source.
Black chrome finish barrel and cylinder provides maximum corrosion resistance.
Fixed barrel / under lever cocking system.
Quattro Trigger is a 2-Stage fully adjustable match trigger system.
SAS- Shock Absorber System significantly reduces vibration.
Precision rifled steel barrel for accuracy.
Manual safety & automatic cocking safety.
Anti bear-trap cocking arm safety.
Stylish design genuine Turkish walnut ambidextrous stock.
Elevation adjustable comb.
Scope mount rail & shock absorber scope stop.
Gold plated trigger blade.
Micro adjustable rear sight for both windage and elevation with Truglo fiber optics.
Hooded front sight with Truglo fiber optics.
Fitted sling swivels.
Includes 3 stock spacers to extend to stock length.

* Above maximum muzzle velocity figures may differ depending on the pellet weight & shape.
* The energy restrictions of a particular country can be achieved by the reduction in the muzzle velocity. The above maximum velocity figures are obtained when there is no energy restriction on the air rifle.